News
Celebrating the UMD iSchool and Trace Center's Commitment to Advancing Innovations for Older Populations
June 10th, 2021
Developing innovative technologies, co-designing with seniors, and advocating for accessibility rights.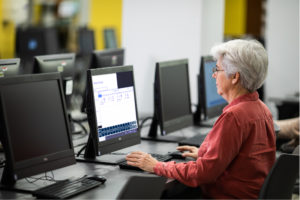 The University of Maryland College of Information Studies (UMD iSchool), home of the renowned Trace Research and Development Center, is a leader in accessible information technology, systems, and research. Strengthening resilience, self-sufficiency, and quality of life among seniors and older Americans with disabilities is a key objective of UMD iSchool researchers. The faculty, staff, and students of the Trace Center, celebrating its 50th anniversary in 2021, are developing innovative technologies, co-designing with seniors, and advocating for accessibility rights.
A few of the college's projects around accessibility that particularly benefit seniors:
UMD Trace Center Trailblazers Research and Design Tools for Digital Accessibility
During the first COVID-19 peak in late Spring 2020, the nearly overnight shift to mandatory online and virtual interactions brought the topic of digital accessibility for people with disabilities to the forefront. The Trace Center is currently testing their new software, Morphic, that has significant potential to transform how accessibility features are discovered, modified, and used. Morphic is an open-source extension to either Windows or Mac computers that makes computers easier to use. The basic features of Morphic are available free of charge and include simple one-click access to key accessibility and usability features — and the ability for users of assistive technologies to move settings between computers. A Morphic Plus subscription is available that allows the creation of custom MorphicBars to provide an ultra simple way for people who cannot otherwise use computers to use them in a 1-click fashion for health, safety, communication and connection. Morphic and its Plus subscription are both available free through September and free permanently for the first 2,000 users. This version is particularly timely with so many seniors having experienced isolation due to COVID-19.
Read the full story.
Advancing Inclusive Design and Remote Collaboration for People with Dementia
There is a stark lack of knowledge when it comes to designing technology that supports people with mild dementia and other cognitive impairment. To address this gap, Dr. Amanda Lazar, Assistant Professor at the iSchool and a principal investigator at the Trace Center, is exploring ways to improve technology for people with cognitive impairments and training the next generation of researchers and designers using remote labs and co-design activities with people with dementia, disability advocates, and healthcare professionals. This project, funded by the National Science Foundation (NSF), has the potential to benefit not only people with dementia, but also researchers, caregivers, and the general public, who currently lack opportunities to interact with and learn from people with dementia. In addition, Dr. Amanda Lazar, along with Dr. Jonathan Lazar (no relation), and PhD students Rachel Wood, Emma Dixon, Ekta Shokeen, and Salma Elsayad-Ali already completed research work during the pandemic on best practices for remote usability testing involving people with dementia, work which will be published later this year in ACM Transactions on Accessible Computing.
Read the full project abstract.
Personalized Self-Tracking Technology to Improve Older Adults' Physical Activities 
In 2020, iSchool researchers were awarded a four-year $1.2 million grant from the National Science Foundation (NSF) to fund their Teachable Activity Trackers for Older Adults project, a collaboration with Penn State University to develop personalized activity trackers for older adults. Combined with the development of teachable interfaces, the project aims to lower the barrier to data collection, and enhance the motivation of older adults to engage in physical activities and with their own health data. In the long term, the project team hopes to make societal impacts in nurturing a culture of diversity and inclusion that benefits the lives of older adults. The grant team includes  Dr. Eun Kyoung Choe, principal investigator for the project and Associate Professor in the iSchool, Dr. Hernisa Kacorri, Assistant Professor in the iSchool and co-PI, and Dr. Amanda Lazar, Assistant Professor in the iSchool and co-PI. The team is also supported by Dr. Young-Ho Kim, a postdoctoral researcher in information studies at the UMD iSchool. Drs. Kacorri and Lazar are PIs at the Trace Center, and Dr. Choe is an affiliate faculty member.
Read the full story.
Annual Disability Summit Gathers Change Makers to Challenge Large-scale Inequities
Founded in 2016, the UMD Disability Summit brings together researchers, educators, practitioners, advocates, family members, and disabled people from across disciplines, professions, types of disability, and national boundaries for a dialogue and collaboration about large-scale societal barriers that challenge disabled people. The 2021 Summit held from April 12-14, 2021, focused  on the twin crises of a global pandemic and a re-awakening to systemic racial injustice which have illuminated long-standing disparities faced by the disability community, compounded by a violently exclusionary presidential administration. During each Summit, new ideas, best practices, inventions, innovations, and advocacy strategies are shared and compared to build new connections and new understandings of the large-scale inequities related to disability and ways to right those inequities. This year's live panel presentations covered topics such as Policing the Disabled Body, Accessibility in a Pandemic, Activism Across the Globe, and more.  Dr. Gregg Vanderheiden led a presentation with all Trace Center PIs about the history and work of the Trace Center.  In addition, the UMD Disability Summit innovative leadership award was renamed the Trace Research and Development Center Innovative Leadership Award in honor of the long history of accomplishment of the Trace Center – now in its 50th year.
Review all of this year's speakers and sessions.
How Amazon Alexa Can Help People with Traumatic Brain Injuries
As voice recognition technology continues to increase in use, so have the ways in which it can enhance our lives and be tailored to fit the needs of those who need it most. A research team led by Dr. Galina Madjaroff Reitz, affiliate professor at the Trace Center and director of the Information Science Program at the Universities at Shady Grove (USG), is showing how Voice-user Interface Technology (like Alexa) can make a positive impact on veterans with Traumatic Brain Injuries (TBI). By controlling various aspects of their homes through their voices, veterans with TBI, who may have a cognitive condition or be paralyzed with limited hand or finger mobility, can regain independence and feel supported in their own homes.
Read the full blog article.
The month of May is observed as Older Americans Month, led by the Administration for Community Living. This year's observance theme is "Communities of Strength" to celebrate the strength of older adults and the Aging Network, with special emphasis on the power of connection and engagement.
Written by Hayleigh Moore. This article was originally posted to the iSchool website. Find the original article here.